HandsOn Bay Area Media Squad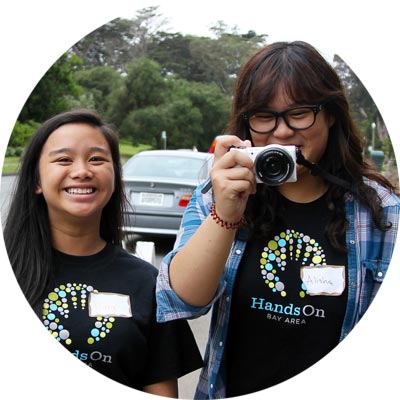 The HandsOn Bay Area Media Squad is comprised of creative volunteers like you who help get high quality photos and video of HandsOn Bay Area volunteering events.
This is a volunteer opportunity and we are looking for people with access to their own cameras. We cannot reimburse you for time, travel, or equipment but this opportunity has some great perks for those who commit to helping!
Check out some recent pictures from current media squad member Rebecca Keyes at Next Door Shelter in San Francisco.
There are 2 primary types of HandsOn Bay Area volunteer events:
Community Calendar Volunteering Events - Appox. 100 each month and primarily on nights and weekends

Corporate Employee Volunteering Events - Approx. 10-30 each month on average during the daytime M-F.
Perks of joining
In addition to tracking your volunteer time and the satisfaction of using your talents to promote volunteerism, we're happy to offer the following...
Attend 1 event during the year - Get a $5 Starbucks e-gift card!
2nd event - Get a HandsOn Bay Area reusable shopping bag!
3rd event - A $25 Amazon Gift Card and a HandsOn Bay Area t-shirt!
So how do I join the Media Squad?
Complete a 10-minute onboarding training call

Schedule your first event and get some great photos and/or video!
Questions?
Contact Blake Brown, Marketing Manager at blake@handsonbayarea.org