HandsOn TomorrowTM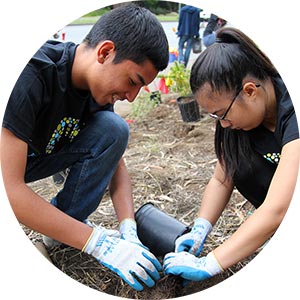 A Parents' Press "Best Teen-Focused Summer Camp"
HandsOn Tomorrow 2020 - the virtual experience - will take place over the course of five weeks from June 22 to July 25. Youth Leaders will connect over Zoom, 4 days a week in 1-2 hour periods for facilitated discussion, guest speakers from local nonprofits, and virtual volunteer engagements, and also meet one day a week at predefined hosting nonprofit partners for in-person volunteering (shelter-in-place regulations and your own personal comfort level permitting)*.
Participants are broken into cohorts of 4-6 participants each to help bolster conversation and enhance the space for creative problem-solving, but also get to meet as a larger group to share accomplishments and forge new friendships along the way. Virtual sessions on Zoom include guest speakers from local nonprofits, interactive reflection activities, and volunteer opportunities that can be done online, as well.
*In person-engagements will be vetted to assure participants can practice social distancing measures. Personal protection equipment provided by staff. Staff will be ready to execute one of our many virtual volunteering experiences, in the event that in-person projects are not allowed.
Just like any HandsOn Tomorrow program, this summer's installment of the program will culminate in a large-scale volunteer service project planned and led by the team, and attended virtually by friends, family, and community members.
***Applications for 2020 are officially closed. COVID-19 has unfortunately impacted our funding, which means HandsOn Tomorrow is currently on pause. We are hoping to bring the program back for 2021. Please check back for updates and if you are interested, consider donating to help!
---
HandsOn Tomorrow 2020 Schedule
Youth leaders will connect over Zoom to engage in curriculum and reflection activities, connect with guest speakers, and participate in virtual volunteer opportunities guided by HandsOn Tomorrow facilitators. On Fridays, youth will meet at pre-defined hosting nonprofit partners together for in-person volunteering. In the event that shelter-in-place regulations or your own personal comfort level prohibits you from participating during in-person events, virtual volunteering experiences will be offered in its place.

Please note that due to Independence Day, HandsOn Tomorrow will not meet on July 2nd, July 3rd, or July 6th.
---
Testimonials

It's super important for young people to get involved in their community and start making a difference because no one is going to do it unless you step forward.
Anushka Joshi
HandsOn Tomorrow
Palo Alto Team 2016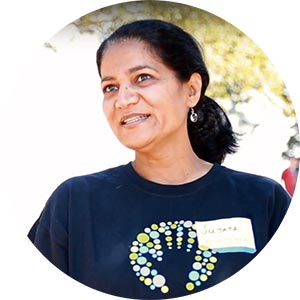 Young people need to be prepared when they go out into the real world. I would recommend HandsOn Tomorrow highly to any high school student thinking of doing volunteer work and getting exposure to life outside their own world.
Sujata Joshi
HandsOn Tomorrow Parent
Palo Alto Team 2016
---
Benefits of Participating
HandsOn Tomorrow participants will:
Earn volunteer hours for college

Become strong and effective leaders

Learn what it takes to make a difference in their community

Engage their peers, family, and community members through volunteer action

Learn how to work and thrive in a team-based environment
---
Cost
Attendance of all five weeks of the program is required for participants and enrollment costs $1,190 per person. Need-based scholarships are available for low-income youth and families experiencing hardship as a result of COVID-19. If a need is indicated on your application, you will be automatically redirected to the scholarship application.
Apply to HandsOn Tomorrow
Applications for 2020 are officially closed. If you are interested in future cohorts, please complete the interest form below and you will be notified when applications are open again.
Sponsorship Opportunities
Interested in sponsoring the next generation of Bay Area leaders? Check out sponsorship opportunities here!
Questions?
Please see our FAQ or contact Joey Guerin, Director of Programs, at joey@handsonbayarea.org.
HandsOn Tomorrow is supported by our amazing community partners at HandsOn Superior California, the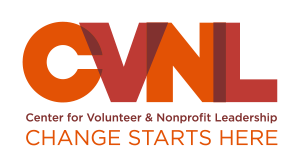 and

HandsOn Tomorrow is made possible by generous contributions from LifeScan Inc. and The eBay Foundation.