HandsOn Tomorrow
A Parents' Press "Best Teen-Focused Summer Camp"
HandsOn Tomorrow is a summer leadership and volunteering program for high school students in the Bay Area.
HandsOn Tomorrow energizes participants to be the change they wish to see in the world and to organize together to become community leaders in the Bay Area and beyond.
Participants will be led through the innovative HandsOn Tomorrow curriculum. Through this curriculum, youth will develop leadership skills with fun hands-on activities while exploring and addressing specific challenges facing their communities.
2017 Sessions
Palo Alto: Mon-Fri, weeks of 7/10 and 7/17. Final capstone project on Saturday, 7/22.
San Francisco: Mon-Fri, weeks of 7/17 and 7/24. Final capstone project on Saturday, 7/29.
Walnut Creek: Mon-Fri, weeks of 7/24 and 7/31. Final capstone project on Saturday, 8/5.
A Day in the Life
Each morning, the group will convene at a preselected nonprofit (safely and easily accessible via public transportation) and participate in hands-on leadership building activities. After lunch, we'll get our hands dirty and volunteer on a project to help the mission of our host.
By the end of the program, participants will exercise their new-found skills to plan and design their own capstone service project. Friends, family, and community members will be invited to participate as well. Check out pictures of HandsOn Tomorrow in action!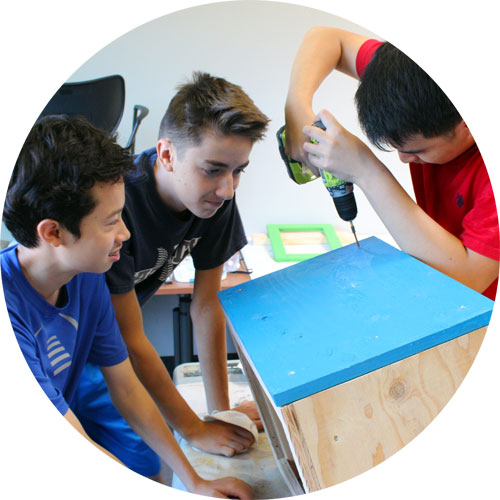 2017 Schedules
Benefits of Participating
HandsOn Tomorrow participants will:
Earn 55 volunteer hours for college!

Become strong and effective leaders

Learn what it takes to make a difference in their community

Engage their peers, family, and community members through volunteer action

Learn how to work and thrive in a team-based environment
Program Fee
Attendance of both weeks of the program is required for all participants and enrollment costs $1,190 per person. Need-based scholarships are available for low-income youth. If a need is indicated on your application, you will be automatically redirected to the scholarship application.
Apply
HandsOn Tomorrow 2017 is no longer accepting applications. Please check back in January for our 2018 sessions!
Questions?
Please see our FAQ or contact Program Manager Joey Guerin at joey@handsonbayarea.org.
HandsOn Tomorrow is made possible by the generous contributions from the Eustace-Kwan Family Foundation.
And NobleCause - made possible by an anonymous donor within the GiveWell Community Foundation and organized by Noblehour.com, a volunteer management tool that promotes a culture of civic engagement and charts meaningful, measurable acts of goodness.